Redmi SD855 Flagship spotted with Pop Up Selfie Camera in real life video featuring Avengers Endgame!
Pop Up Selfie Camera Teased on Redmi Video
Partnership of Redmi with Avengers Endgame
Poco F2 camera provisions analogous to Mi 9
48 MP camera + 8 MP + 13 MP triple rear camera
Xiaomi brand took to the Chinese microblogging website, Weibo and showcased hot features to come in its next flagship phone. Xiaomi dropped a subtle hint via a teaser for its fans to what they should expect in the next launch of Redmi. This was for upper mid-range budget devices. No manufacturer will like to be left behind in the race when it is giving out of the world experience wrt camera. This is because of late, selfie cameras are a rage amongst the young generation. It can be either experimenting with water drop notch, punch hole display or the latest in news Pop Up Selfie Camera. Xiaomi even held a trial in its Mi Mix series switching from normal mounted selfie camera on the bottom bezel to a slider design camera.
Vivo, One Plus had already launched Pop Up Camera in the market and Xiaomi did not want to be left far behind. With this, the competition has started heating up. The first quarter of the year saw the competition warming up to Redmi Note 7 Pro versus the Realme 3 Pro. Now the market is buzzing with the rivalry in both the brands' for Realme X & Redmi X due to the launch of Pop Up Selfie Camera.
Redmi Render Confirms Pop Up Selfie Camera in Video
Xiaomi has not yet officially confirmed that it will be launching Redmi X in the near future. But Xiaomi did release an official video on Weibo on 2nd May 2019 to keep the interest of its fans ticking. The video clearly shows a smartphone with a front-facing pop up selfie camera. These are close up images of the assumed Redmi phone.  A couple of days back, a similar teaser had come out ribbing the users. It was regarding the possibility of Xiaomi launching a pop-up selfie camera. With the teasers and leaks, Poco F2 and Redmi X will feature a mechanically driven pop up selfie camera.
Redmi partnering with Avengers Endgame
In the video, one can see the special partnership of Redmi with Avengers Endgame which was announced recently. The video shows few images of the recently launched Redmi phones including the Redmi Note 7 interspersed with shots from the movie. It is towards the end of the teaser that one can see a notchless, possibly Redmi device with a pop-camera. The video very clearly shows that the Redmi gadget has bezel-less full-front display packed with a pop-up selfie camera. This will be the first smartphone from Xiaomi which will be featuring Pop Up Selfie Camera. This is definitely good news for people conscious of the optics of the smartphone they carry and are loyal to Xiaomi products.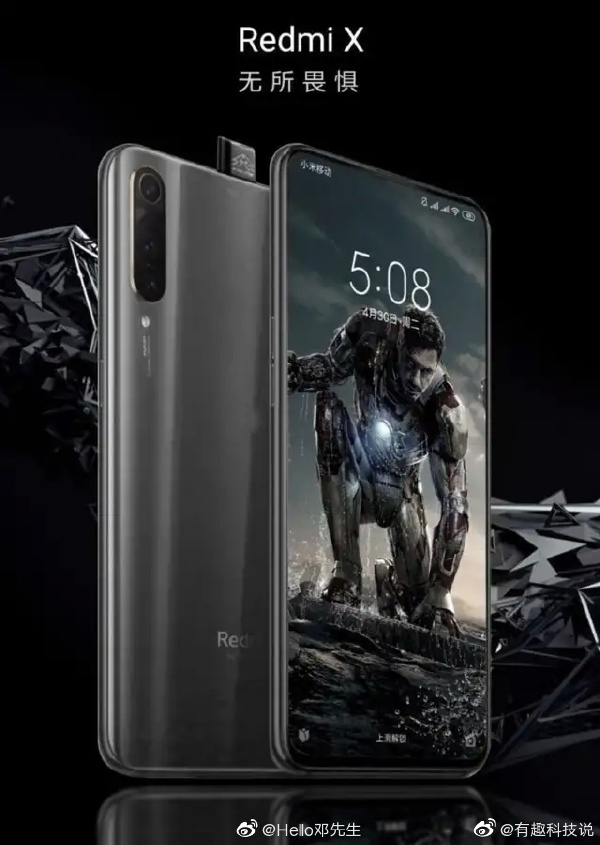 The images explicitly divulge camera setup features of supposedly Redmi X or Poco F2. It is being hoped that they will have a 48 MP camera + 8 MP + 13 MP triple rear camera. They will be somewhat analogous to the camera provisions on Mi 9. In fact, in of our posts, we have laid out the possibility of Poco F2 being based on Mi 9. The assumptions seem to be leading in the right direction. Proof of images vividly shows Mi 9 placed by the side of Redmi. If we go by them looks are stunningly comparable.
Expected Features of Redmi X, Poco F2
The video leak vividly shows label on the retail box as Redmi. It gives hopes and confirmation that the device will be sold as Redmi supposedly "X". Apart from this, the internal specifications are left to guesswork for people like us. If we go by leaks and buzz in the market, Redmi X/Poco F2 will be a flagship phone having top-of-the-line features. These will include Qualcomm Snapdragon 730 Soc chipset and Snapdragon 855 Soc chipset respectively. Other high-level features will be Pop Up Selfie Camera, NFC, 3.5mm audio jack, a display of 6.39 inches. The features are supported by 4000mAh powerful battery.
As of now, Poco F2 release date is a presumption. But the team will keep you updated with the latest news in the world of Gadgets!